National Payments Corporation of India (NPCI) is an important body for all retail payment systems in India, which aims to allow all Indian citizens to have open access to e-payment services. It was founded in 2008 and is a not-for-profit organization registered under section 8 of the Companies Act 2013. The organization is owned by a group of major banks and has been promoted by the Reserve Bank of India.
NPCI, during its journey for last over eight years, has made a significant impact on the retail payment systems in the country. The Company is focused on bringing innovations in the retail payment systems through the use of technology for achieving greater efficiency in operations and widening the reach of payment systems.
There are many service portfolios with this organization namely NFS, IMPS etc. The three main products undertaken by NPCI are:
1) RuPay
RuPay is an Indian domestic card scheme launched by the National Payments Corporation of India (NPCI). It was created to have a domestic and multilateral system of payments in India. In India, 90 per cent of credit card transactions and almost all debit card transactions are domestic; however, the cost of transactions was high due to monopoly of foreign gateways like Visa and Mastercard. RuPay enables electronic payment at all Indian banks and financial institutions. RuPay cards are accepted at all automated teller machines (ATMs) across India under National Financial Switch. In addition to the ATMs and PoS terminals, RuPay cards are accepted online on most domestic payment gateways with the same PIN which they use for ATM transactions. To enable this, RuPay has certified 29 major banks in India to accept the RuPay card at their respective PoS terminals located at different merchant locations.
2) BHIM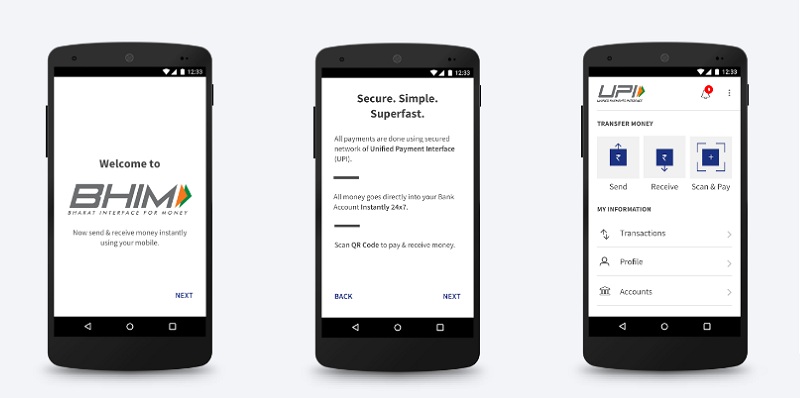 BHIM (Bharat Interface for Money) is a Mobile App developed by National Payments Corporation of India (NPCI), based on the Unified Payment Interface (UPI). It was launched by Narendra Modi, the Prime Minister of India, in New Delhi on 30 December 2016. It has been named after Dr. Bhimrao R. Ambedkar and is intended to facilitate e-payments directly through banks as part of the 2016 Indian banknote demonetisation and drive towards cashless transactions. The app supports all Indian banks which use that platform, which is built over the Immediate Payment Service infrastructure and allows the user to instantly transfer money between bank accounts of any two parties. It can be used on all mobile devices. BHIM allow users to send or receive money to or from UPI payment addresses, or to non-UPI based accounts (by scanning a QR code with account number and IFSC code or MMID (Mobile Money Identifier) Code).
Unlike mobile wallets (PayTM, MobiKwik, mPesa, Airtel Money etc) which hold money, the BHIM App is only a transfer mechanism, which transfers money between different bank accounts. Transactions on BHIM are nearly instantaneous and can be done 24/7 including weekends and bank holidays.
BHIM also allows users to check the current balance in their bank accounts and to choose which account to use for conducting transactions, although only one can be active at any time. Users can create their own QR code for a fixed amount of money, which is helpful in merchant — seller — buyer transactions. Users can also have more than one payment address.
3) UPI
Unified Payments Interface (UPI) is a payment system propelled by National Payments Corporation of India and regulated by the Reserve Bank of India which facilitates the instant fund transfer between two bank accounts on the mobile platform. UPI is built over Immediate Payment Service (IMPS) for transferring funds using Virtual Payment Address (a unique ID provided by the bank), Account Number with IFS Code, Mobile Number with MMID (Mobile Money Identifier), Aadhaar Number, or a one-time use Virtual ID. An MPIN (Mobile banking Personal Identification number) is required to confirm each payment.
UPI is also being provided as a USSD service. Users could access the service by dialing the code *99#. The various services provided are categorized as follows: Financial Services, Fund Transfer, Send Money, Request Money, Non-financial services, Balance Enquiry, Change MPIN, etc.