Customer support plays an important role in establishing your brand and product on the market. Maintaining a customer support that is reliable, smart, and efficient in assisting and providing consumers with technical support is prerequisite for any fruitful venture. Having a reliable help desk software can go a long way in providing your customers with a single point of contact where they can get answers to their common grievances.
The popular cloud-based firm Wix, which is known to offer a robust & intuitive website building platform, is bringing to the market an all-in-one help desk software solution. Known as Wix Answers, the software solution comes equipped with a complete set of tools that are required by one who intends to create and operate customer & business support for his/her venture, all for free! The customer support system which is aimed at businesses and enterprises of all sizes has a heavy set of features including a ticketing system, knowledge base, call center, and a lot more. In this review, we take a comprehensive look at the efficacy of this brilliant product and enlist its usability and credibility in reference to its features.
Wix Answers Overview
Wix Answers furnishes a beneficial set of essentials and support features that work in a well-integrated manner to guarantee effective customer support. You can set up a help desk with ease, manage multiple ticket channels, incorporate built-in call center support, gain access to critical insights to form an informed decision, facilitate good communication, and offer help to customers from anywhere in the website. Details of these features are discussed below.
Set Up a Help Center That Suits Your Branding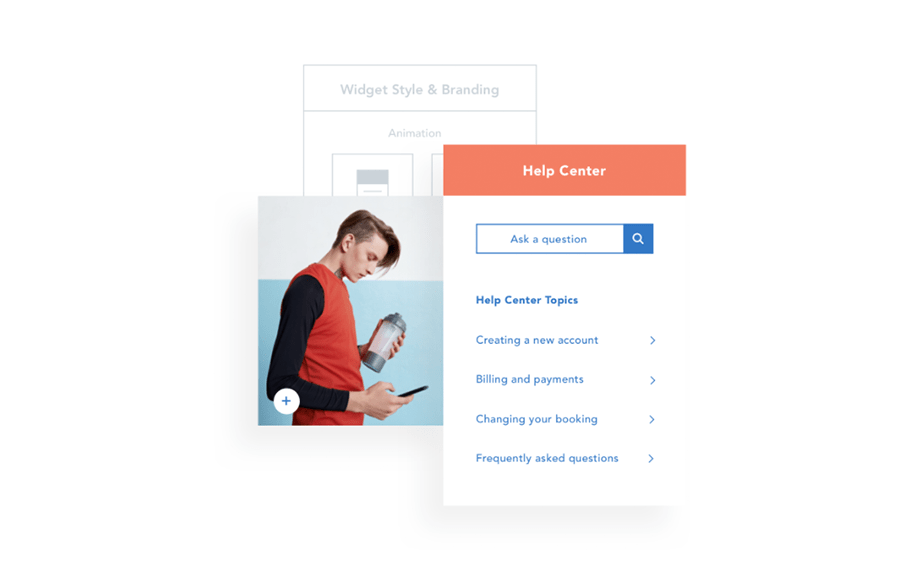 With Wix Answers, you can easily build a user-friendly help-desk system as it is the initial place where customers come to resolve issues or to learn about the product or related tasks. You can choose templates from the wide range offered and customize it in accordance with your branding, include relevant articles and finally publish it. The knowledge base feature also allows you to create step-by-step guides, tutorials, and comprehensible FAQ sections. It also allows filtering articles with different parameters to serve your customer with ease and efficiency.
Have an Organized Ticket Management System
Wix Answers organizes all your customer support tickets that come from multiple channels, be it through e-mail, telephone, social media platforms like Facebook, etc., in a single place. It unifies them making sure that you receive and respond to them with accuracy, and on a regular basis.
The ticketing system provides a solution, based on articles from the Knowledge database and also can automatically give customized article recommendations.  Its multiple platform support and handling methods are exceptional – you can also group tickets according to a source, country, and other labels. Last but not least, you can include customized fields in your contact forms to know more information about your customers and hereby improve the service.
Includes Built-in Call Centre Support
Built-In call support still ranks as a predominant customer outreach channel to make inquiries and resolve issues. Wix Answers help desk software comes with a built-in call center support that brilliantly queues up calls and distributes them to agents within your team enabling competent handling. You can use your own number starting at 1800 to make or take calls. The tool also enables you to provide customers with an option of a call-back request based on their preference and convenience.
Understand and Know Critical Insights
With a seamless integration of your ticketing system and knowledge base system in place, you can now have access to critical insights and statistics on the functioning and performance of your business, products, team and support service. Having an overview of customer satisfaction levels, individual ticket response times and support team performance, you get a clear picture of your venture and can now frame important business decisions to improve your brand and services further.
Customer Support Accessible from Anywhere on Your Website
Wix Answers embeds a widget to aid the customer support solution to be readily accessible from anywhere on your website. With a single click, your users/customers can access the tutorials or other knowledge base articles or even generate support ticket without much ado. Customizable options of the widget also empower customers to send a messages which will be automatically linked to your ticketing system.
Another attractive aspect of Wix Answers is its free-to-use nature. No matter of you are engaged with building your website using Wix website builder or any other tool, you can easily setup the segment without the aid of any additional resource or personnel. The interface is easy to use and can be set up by any interested individual.
Wix Answers Conclusion
Wix Answers is perfect for Small and Medium Business Enterprises. It involves an array of feature-rich essentials such as help desk, ticketing system, call center and more, that help building a customer base and providing improved service.
The user-friendly and well-put interface enables easy navigation – you can check all essentials and status in an effortlessly intuitive manner. Wix Answers is also designed to be SEO-friendly so that your content and all written data could be easily brought up front when searched on Google.
To conclude, if you are starting a business, have an enterprise or are a freelancer, Wix Answers, with all its versatility and functionality serves as a great tool you can experiment with, given it free of cost nature. All you have to do is navigate to the website and set up an account. Using the widget, you can place the necessary links and create the required content for the knowledge base. With that done, you can now have a proficient customer support system that offers insights into the performance of your brand and lets achieve a complete customer satisfaction.