Hostinger Web Hosting Overview: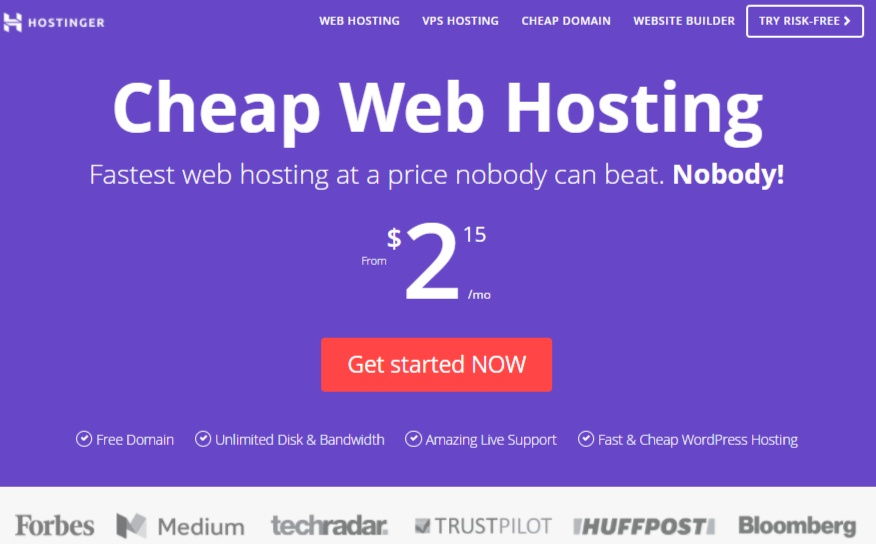 Hostinger started off in the year 2004 under the name "Hosting media" with an aim of empowering millions of people discover the world of internet. This simple strategy transformed their company and ultimately came to be known as the best and most inexpensive web hosting company in the world. As of January, 2017, they have 29 million users in their database. On an average 20,000 people sign up to their portal daily.
Based in Lithuania, they have offices all over the world at present. Their hosting portal is all about providing cheap hosting services backed up by efficient tools. The range starts from $3 a month over two years for 'Single Web Hosting' and can go up to $3.60 per month for 'Premium Web Hosting'.
But that is not all, if you have higher aspirations you can take 'Business Web Hosting' Plan for $7.40 a month which comes with an added SSL certificate with daily backups and higher processing power.
They also provide specs like 1GB RAM, 2GB burst RAM with 1000GB bandwidth and 20GB hard drive – If this fits your bill, then you can take their VPS plan which is again at a reasonable price of $7.40 per month.
The best part is that all of these plans are covered with a 30-day money back guarantee and they have usual restrictions that come with hosting. We didn't notice any sneaky clauses which might help them escape or put you on a loss.
Hostinger Performance:
When it comes to performance we think that the support system is of utmost importance. Every once in a while you will need a helping hand with that website. While the VPS plans come with a premium support system or live chat support, their basic support system is much more self explanatory.
They have big tutorial sections with detailed instructions and on their 'help' page, you can find the usual 'how tos' for most queries. It has a search box which proves helpful in finding whatever you need.
Setting up an account:
Hostinger has the option to sign up with Facebook and Google. Creating an account manually is easy without the need to give reveal much information about yourself. All you need to put in is your name, email address and password to get started.
They also have plenty of payment options like PayPal, Bitcoin and Debit/Credit Card for payments. So starting up is not an issue. They have a simple platform where things are organized enough to understand the system quickly.
Creating & Hosting a website:
Let us come to the key point –
How good is Hostinger when it comes to website development and hosting? Whether you're a veteran website creator or a newbie looking to launch their first website, Hostinger provides a massive library of over 500 tutorials of website creation, CMS guides, server management & more, which are completely free to access, even without a Hostinger account! With over 200 website templates, the Hostinger website builder does offer plenty of options that are sure to please you.
You can also choose where to host your site – in the UK or North America. When it comes to web hosting companies, you need to be sure that the domain registrar is certified or not. As you can see from the ICANN Accreditation list, Hostinger is certainly a certified domain registrar since 2013.
Security & Customer Support:
Users who are concerned about privacy and security would be glad to know that Hostinger provides free Anti-theft and Malware Protection features along with free automated backups that could be daily or weekly depending on your package.
With an approximate average waiting time to 3 minutes or less, you can rest assured that the customer support will be there to help you with any of the queries you may have, technical or otherwise.
Ultimately, with the 30-day money-back guarantee, there's absolutely no reason why you shouldn't try out Hostinger and see for yourself. If you're a novice or intermediate user, Hostinger is highly recommended as it's the cheapest web hosting provider you can find. (Currently, Hostinger is offering support only to web shared hosting users).
Hostinger Overall Score:
Platform Features                          4.4/5
User-friendliness                            4.6/5
Reliability & Support                     4.2/5
Value for Money                            4.8/5