Looking for a delicious recipe to try out? Whether you are new to cooking or have some experience in the kitchen, having a cookbook handy is a great way to explore new flavors and switch up your meals.
I am no expert at the kitchen, but I do enjoy creating new dishes and trying different ingredients to keep meals interesting and varied. Usually, I find a new recipe on Google, by browsing through several options before I make my pick. However, I certainly don't want to spend 20 minutes researching recipes every time I want to try a new one! So, I decided to find the best apps I could use on my phone for quickly finding new meals to try out. After browsing through different sites, I found a site called AppGrooves that has a top 10 list of supposedly the best recipe apps. I'll drop the link below in case you want to check out the full list:
Top Apps for Discovering Cooking Ideas
I tested some of the apps, and I selected my top 3 favorites and reviewed them.
Food Network In the Kitchen – Rating: 4.6, Downloads: 1M+
Food Network In the Kitchen is my first pick as you can easily find all the delicious recipes that are shown on the Food Network. Supposedly there are more than 70,000 recipes, which is way more than I could ever imagine cooking! What I really like about it is that you can find step-by-step video guides from top chefs like Rachael Ray, Alton Brown, Ree Drummond and more! I found the recipe selection to be really varied, with everything from kid-friendly recipes to easy dinner recipes you can cook up in under 20 minutes.
The only drawback I found is that there isn't an option for entering your own recipes. However, I found Food Network in the Kitchen to be a great choice for finding recipes from your favorite shows and celebrity chefs. If you want to add some of these recipes to your collection, you can easily save them to your favorites or e-mail them to yourself with a tap.
Pros: 70,000 recipes from Food Network shows, step-by-step video guides, save favorites
Cons: No option for entering custom recipes
Overall: Great for finding recipes from your favorite Food Network shows, but look elsewhere if you also want to save your own custom recipes
Kitchen Stories – Ratings: 4.7, Downloads: 1M+
Kitchen Stories is my second pick. I found it to be a great choice especially if you are new to the kitchen. Every recipe has detailed step-by-step photo instructions, so you can easily follow the recipe even if it is your first time. I also like that you can watch videos that explain each step of the recipe if you need some extra help. Another plus is that you can also find cooking tips and tricks that are of great help in the kitchen. Whether you are looking for easy chicken recipes, gluten-free recipes, vegan recipes or different pasta variations, I'm certain you'll find exactly what you need.
Before you can start discovering new recipes, you need to create your own Kitchen Stories account. However, I found the sign-in process to be quick, so you will be on your way to finding great recipes in no time. The extra screen only took a few seconds of my time, and it is more than worth it as it enables you to save your recipe collection and access it later!
Pros: Step-by-step photo and video instructions, cooking tips, and tricks, many gluten-free and vegan recipes
Cons: Account is required to access recipe collection
Overall: Great choice if you are new to the kitchen as you will find detailed cooking instructions, but you will need to create an account first to access the recipe collection
Yummly Recipes & Shopping List – Ratings: 4.6, Downloads: 1M+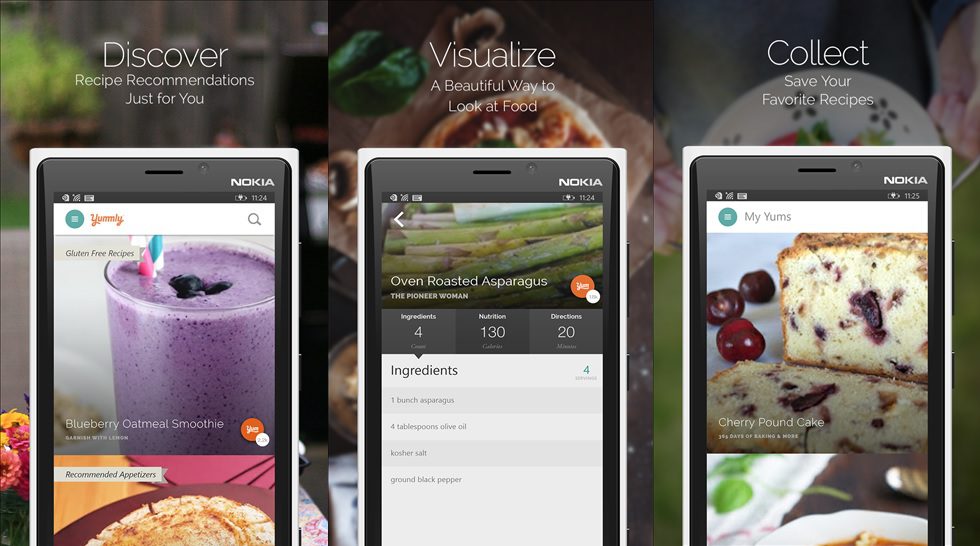 Yummly is my third pick as you can easily find recipes that fit your diet and taste preferences. There are so many recipes I can't even get my head around it, as you can browse over 2 million recipes and personalize them to your needs. I particularly like that you can specify your dietary needs, and you will instantly get many food recommendations that fit your diet. You can also filter results by cuisine, cooking time, and more. I have tried several recipes, and so far, my favorite has been a super easy crockpot recipe for Vegetarian Chili! My family loved it and it could not have been easier to make.
Do you have extreme dietary needs? I tested out different filters for specific diets, and I noticed that some resulted in a limited selection of recipes. However, regardless of the type of diet, I always found a variety of recipes to try. I also noticed that the developers are frequently updating Yummly with new recipes, so the collection just keeps growing and growing.
Pros: 2 million recipes, recipes for any diet, personalized recommendations
Cons: Some dietary needs resulted in a limited selection of recipes
Overall: With over 2 million recipes you will easily find recipes for any diet, although the selection might be limited for some of the more restrictive diets
Conclusion
These are my top 3 apps for finding new recipes to try at home. Whether you are new to cooking or want to expand your recipe collection, I'm certain you will find what you need. My personal favorite is Yummly, although Kitchen Stories is also fighting for the top stop! I hope you discover some amazing recipes and have a great time cooking them too. Happy cooking!